4 In 1 Derma Roller
Regular price
Rs.1,995.00
Sale price
Rs.995.00
---
4 In 1 Derma Roller Micro-Needling Skin Care System

Microneedling is a non-invasive procedure that involves using a dermaroller that has many fine, very sharp medical quality needles. The rolling action over the skin causes fine holes punctured into the deep layers of the skin. This promotes your skins own healing mechanisms to stimulate new collagen growth, improve skin texture and reduce the appearance of scarring and fine lines.
The Derma Roller's benefits can be reaped for years to come as far as anti-aging is concerned. As well as increasing the absorption and efficacy of your anti-aging skin care products, with continued use the stimulation of cells will also result in a faster renewal cycle of the epidermis and stimulate new collagen production.

300 Needles with 0.5mm: for eye wrinkles. The recommended treatment interval is 3 days.

720 Needles with 1.0mm: for face anti-ageing, skin regeneration and collagen stimulation treatment. The recommended treatment interval is 1 week.

1200 Needles with 1.5mm: for body stretch marks, severe cases, deep scars and wrinkles, rejuvenation of ruined skin. The recommended treatment interval is 10 days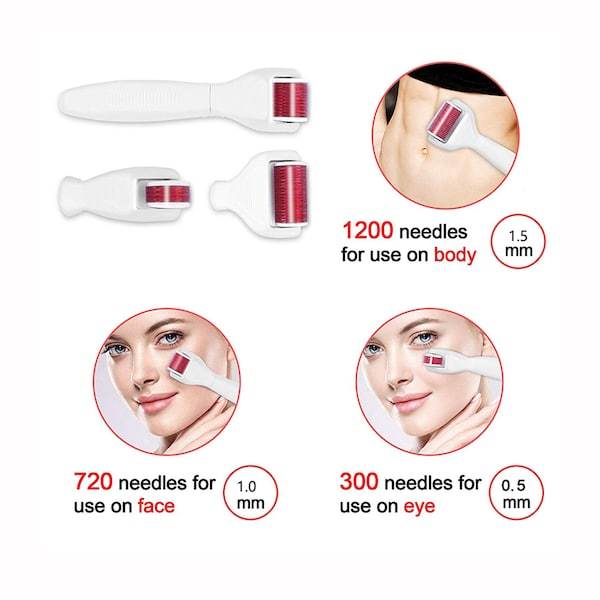 Technology
The derma micro needles penetrate the epidermis and dermis layer of skin. The needles will generate micro channels into the skin. This gives a pathway for skin products to penetrate more easily, boosting their effectiveness greatly. These channels should close up within an hour. The mechanism of Dermaroller's action is based on Collagen Induction Therapy (CIT), a treatment which aims to restore youth and smoothness to your skin by stimulating the natural production of a substance called collagen. The micro needle Rollers create small channels into the deep layers of the skin which break up the old collagen strands, and stimulate the creation of new ones.
The 4-in-1 derma roller set comes with three separate roller

1200-needle 1.5 mm length head (for use on body)

720-needle 1.0 mm length head (for use on face)

The delicate 300-needle 0.5 mm length head

Travel & storage case with built-in disinfection tank.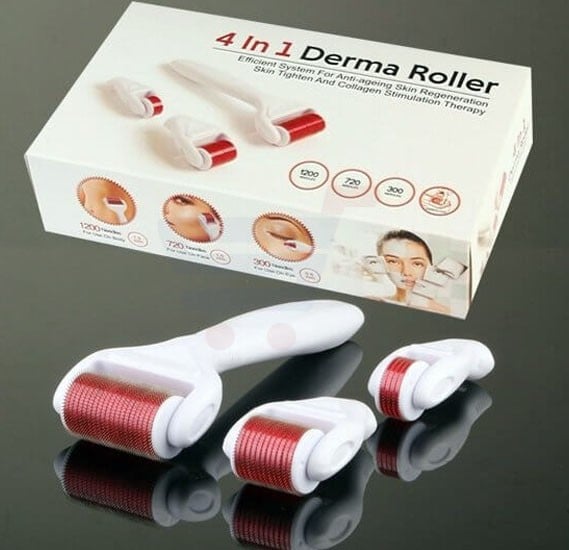 Feel Your Skin Smile → Looking your best has never been this easy or affordable until now. In less than 5 minutes of use, our micro needle derma roller will completely boost and accelerate your entire skincare routine as you combine it with the topicals and serums you love!

Replacement Heads Available → Instead of buying a brand new derma roller after it's worn out, you can now buy Derma Roller Fills which contain 3 replacement rollers heads at a fraction of the cost of competitor's derma rollers. Protect your skin by practicing safe and sanitary dermarolling techniques and replace your derma roller head after 3-5 uses.

Easy & Painless → Whether you are well experienced or completely new to microneedling, our micro roller is one of the safest and most effective derma rollers available. You can use our microdermabrasion tool on your face, body, neck, abdomen, hands, under eyes, legs, scalp etc.

Get the Glow → Use the products you love to promote healthy looking skin. Our cosmetic needling instrument for face is here to stimulate a healthy glow. We want you feeling and looking your best everyday by using the proper beauty tools.

Affordable Quality → Treatments with a professional are expensive. With weekly or bi-weekly use, you can achieve your skin goals for a fraction of the cost! Looking your best has never been this affordable.
GUARANTEE:
We know you'll love this product as much as we do. In fact, if for any reason you're not completely satisfied, Just return your product within 10 days and we'll issue a full refund (minus delivery fee)